These are the link to articles about the New Tecsun PL-680 in my blog.
Please forgive me that may be difficult for you to understand the content, it is automatic translation from Japanese blog.
day1: Unboxing the New Tecsun PL-680
http://goo.gl/SJ8e6a
day2: Abominable spurious problem
http://goo.gl/DJ3LAi
day3: Overview radio receiver function
http://goo.gl/f68ulm
day4: FM-band and AGC dynamic range
http://goo.gl/NswKq5
day5: Interference avoidance features
http://goo.gl/pBLYbv
day6: Natural mute
http://goo.gl/osS8OS
day7: Usability, Air-band and conclusions
http://goo.gl/oc6bO5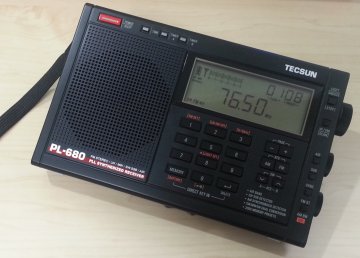 Features.
FM stereo / MW / LW / SW SSB / AIR band (118-137 MHz)
Dual conversion for MW/LW/SW with excellent sensitivity & selectivity
SW Single Side Band (SSB) with BFO control
1900 station memories
Multi-tuning methods:
Auto tuning storage (ATS)
Auto-scan tuning with 5 seconds pre-listening
Manual tuning
Direct keypad entry
9K/10K tuning step for MW (adjustable AM tuning step (9K/10K)
Sleep timer from 1-120 minutes
Dual alarm clock with adjustable auto turn off stopper from 1-90 min
DX / Normal / Local antenna gain
Treble / Bass tone selection
Back light and snooze function
Signal strength & battery consumption display
Direct reset function
Built-in rechargeable function (Ni-MH rechargeable battery only)
Extra long telescopic antenna
FM/SW antenna jack
Stereo earphone jack
DC jack (6V)
Power sources: 4 x UM3 (AA size) batteries (excluded)
230V Mains DC 6V adaptor (included)
Dimensions - 190 x 35 x 112mm WHD
Another useful links.
Tecsun corp.
http://www.tecsun.com.cn/
The SWLing Post
http://swling.com/blog/?s=pl-680
Thank you for viewing.