These are the link to articles about the New Eton Satellit in my blog.
Please forgive me that may be difficult for you to understand the content, it is automatic translation from Japanese blog.
day1: Unboxing the New Eton Satellit
http://goo.gl/FqwA51
day2: Audio quality and features
http://goo.gl/6gVSj7
day3: Interference reduction features
http://goo.gl/8mKH95
day4: Criticism of usability
http://goo.gl/Pq7xBv
day5: Internal noise investigation
http://goo.gl/L9A1GN
day6: Hidden features
http://goo.gl/Z0bnxv
day7: Small problems and conclusions
http://goo.gl/6H4Urv
Welcome the maniac comment in my blog.
Thank you for viewing.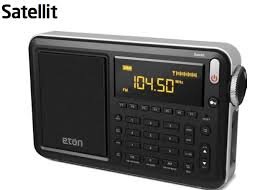 The features of New Eton Satellit (final release)
• AM/FM/LW/SW bands
• FM with RDS
• Single sideband (SSB) with +/- 10 kHz tuning
• VHF Aircraft band
• Automatic or manual digital tuning
• FM stereo/mono selection
• Potentionmeter volume control
• Sync detector with selectable sideband
• Direct key-in frequency
• 700 memory stations
• PLL synthesized receiver
• Local/DX switch
• Local/world time zones
• Clock/Alarm/Sleep Timer
• Rich orange LCD display
• Reset/lock function
• FM telescopic antenna
• Power supply: 6V DC adapter or 4 AA batteries
• Line-in/out
• External antenna jack for SW,FM & Aircraft
Another useful links.
Eton corp.
http://www.etoncorp.com/en/productdisplay/satellit
The SWLing Post
http://swling.com/blog/
Tom's Radio Room Show (YouTube)
https://www.youtube.com/user/hamrad88
That's all.